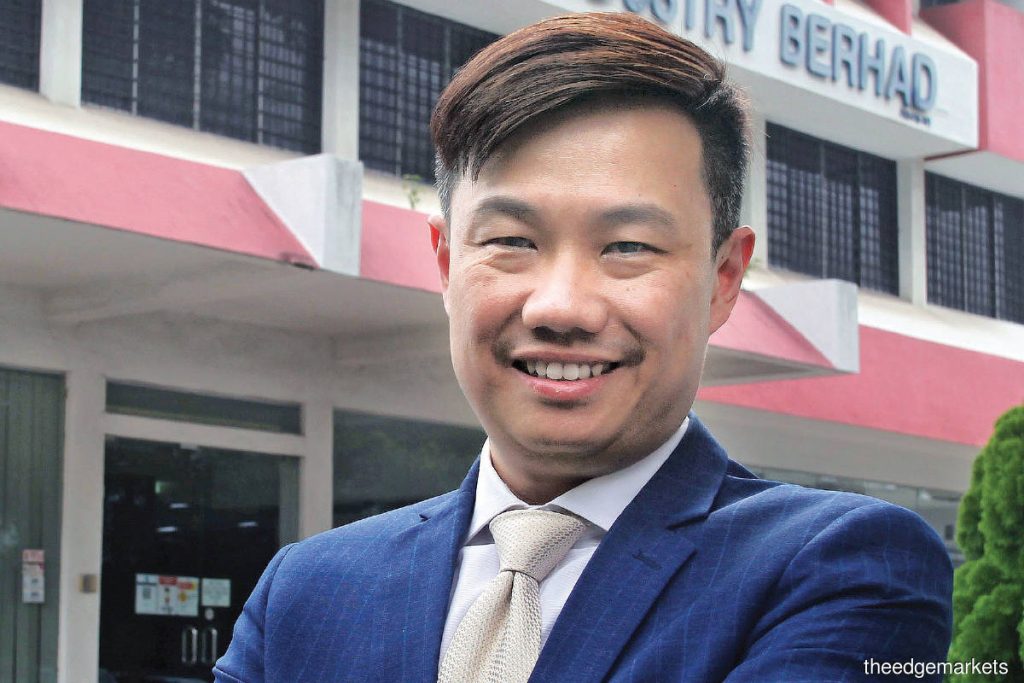 CERAMIC and tile manufacturer Yi-Lai Bhd, which saw businessman Au Yee Boon emerge as the largest shareholder in July, followed by his appointment as executive director a month later, is looking for possible acquisition targets in the information technology sector and hopes to seal "two or three" deals before year-end.
Yi-Lai has been posting yearly losses since the financial year ended Dec 31, 2017 (FY2017), due to the slowdown in the property market. This has been compounded by the economic fallout of the Covid-19 pandemic, which resulted in its net loss widening by 94% to RM9.75 million for the six months ended June 30, 2020 (1HFY2020), from RM5.01 million a year ago.
However, the 39-year-old Au is working hard to turn around the company. On Sept 8, Yi-Lai announced its diversification into the IT solutions business via a joint venture (JV) with TechBase Solution Sdn Bhd, an IT solutions company founded and controlled by Au. Under the JV, Yi-Lai and TechBase will hold 49% and 51% of the shares in the yet-to–be-incorporated JV company respectively. The JV firm will provide blockchain technology and system integration services.
Au says TechBase, which has been in the IT solutions business for 14 years, has a 10% to 20% share of the market, offering products ranging from enterprise resource planning and sales management systems to business productivity solutions and website design and development.
Thus, he expects the diversification strategy to help turn around Yi-Lai as early as FY2021, but he is not stopping there.
"We cannot rely solely on the tile manufacturing and IT businesses. Given the current [low] interest rate environment, we are looking for new investment opportunities, preferably in the IT-related industry, which will give us promising returns. We are in talks with several parties and may finalise two or three deals by year-end," Au tells The Edge in an interview.
The financially strong Yi-Lai will have no problem funding the potential acquisitions as it has a debt-free balance sheet, backed by cash holdings and unit trust investments of RM82.7 million as at end-June.
Au says despite its diversification into the IT solutions business, the group will maintain its focus on the core tile manufacturing business.
"The tile manufacturing business is highly dependent on the property market, which may be soft for now, but it will recover. Before FY2017, it was generating good profit contribution for the group," he points out.
In the immediate term, however, Au says the group's earnings will be driven by its venture into the IT solutions business. "Eventually, I see the two businesses contributing equally to the group."
Yi-Lai has also embarked on an extensive cost-saving exercise, including waiving directors' fee until February 2021. Apart from that, it has set aside RM10 million in capital expenditure for the installation of a solar system for its manufacturing facilities. This will enable it to save on electricity consumption — which averages RM1 million per month — in the long term.
"The capex on solar energy will take about six years to break even but it will be a long-term investment to lower our utilities bills by about 10%," Au says.
As part of its turnaround plan, Yi-Lai will also ramp up its manufacturing efficiency. Its production facilities in Kulai, Johor, comprise a total of seven production lines with an annual capacity of 11 million sq m.
The synergies with TechBase will be gained from the implementation of IT capabilities, such as Industry 4.0 automation, in Yi-Lai's operations, says Au.
"Many processes in the factories are outdated by over a decade. With improved efficiencies, the facilities, which are currently running at full capacity, will be able to generate higher production output. We intend to enhance the efficiency levels across the business before making any further expansion plans. We do not foresee any more than RM5 million in capex for this," he says.
Yi-Lai — an original equipment manufacturer for well-known ceramic tile distributors such as Feruni and Niro Ceramic Group — is also planning a rebranding exercise for its Alpha Tiles, its flagship ceramic tile brand, with the aim of raising its marketing profile.
Last Tuesday, the group launched Talos Living Tiles, a new range of negative ion tiles, with an aggressive sales target of 30 million units in three years. To achieve this target, Yi-Lai has partnered seven retail dealers throughout the country to expand its market reach.
"Alpha Tiles is still thought of as a middle-range brand, but with the rebranding exercise, we will ride on Talos' upper market status to raise Alpha Tiles' branding profile," says Au.
The tile maker also plans to increase its exports of tile products to Singapore and Japan, where it has an existing customer base.
'No plans for backdoor listing via Yi-Lai'
According to Au, he has no plans for TechBase to go public in a backdoor listing via Yi-Lai.
However, he does not rule out the possibility of launching an initial public offering or going for a backdoor listing via other listed companies. Companies Commission of Malaysia data shows that TechBase's net profit grew 41% year on year to RM5.1 million in the financial year ended March 31, 2019, while revenue rose 76% y-o-y to RM10.2 million.
Apart from Au, whose shareholding in Yi-Lai stood at 14.04% as at Sept 10, other substantial shareholders include Gunung Capital Bhd with 13.75% equity interest, and Yi-Lai executive director Aaron Tan Jian Hong, who has a 10.13% stake.
Au says Gunung Capital serves as a strategic investor for Yi-Lai.
Year to date, shares of Yi-Lai have risen 66% to close at 88 sen last Wednesday, giving it a market capitalisation of RM128.1 million.
Source: https://www.theedgemarkets.com/article/yilai-prowl-ma