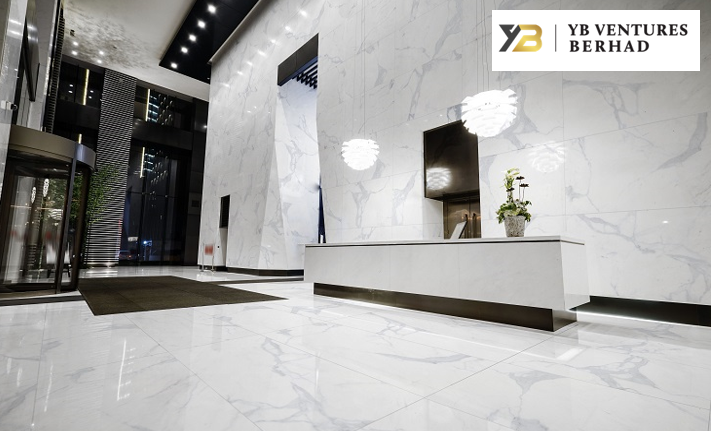 TILES manufacturer and information technology outfit YB Ventures Bhd's new executive director Au Yee Boon wants business solutions offered by the company to focus on tackling issues surrounding the environment.
Sustainability is a central feature of the local-tech entrepreneur's philosophy and approach to life.
Au who is also the founder and CEO of local technology-driven company Techbase Solution Sdn Bhd has emerged as the largest shareholder of YB Ventures (previously Yi-Lai Bhd) in July last year.
He further mooted a diversification plan for the group – which is synonymous with ceramic and tile manufacturing – by reducing reliance on its tile manufacturing business.
In fact, the first baby step Au embarked upon when he assumed the post of YB Venture's executive director was to create a new culture of sustainability within the group.
"I see it as my role to establish and strengthen the company's DNA from the outset," he told FocusM.
"That we need to move beyond being a tile manufacturing company in Malaysia to a global tech-driven company prompted our name change to YB Ventures from Yi-Lai.
"Although we are required to think outside the box, culture remains the number one asset in any organisations and as a leader, I need to reinforce that belief within the group."
Healthy tiles
By putting sustainability at the core of the group's culture, YB Ventures has rolled out its new flagship product – the Talos Living Tiles – which serves as functional tiles to improve indoor air quality.
The feedback from both property developers and end-users have been extremely positive as the incorporation of advanced nano tech glazing technology has helped to bring negative ions into homes.
Medical research has shown that negative ions can help to improve lung function, enhance immunity, lower blood pressure, improve sleep and make people more energetic and alert.
The production of YB Ventures' tiles has also taken into consideration of the environmental impact which is a topic that Au holds dearly.
"We have gone through various studies to ensure that the production of Talos Living Tiles is done in an eco-friendly environment," he recalled. "Whenever it is possible, we would introduce the usage of recyclable materials for the manufacturing process."
Additionally, there are also other measures undertaken to reduce carbon emission from the production process.
"By implementing these measures, we saw an improvement in the operational process which helps us to improve our overall margin while building a sustainable manufacturing process for the group," Au added.
Indeed, YB Ventures reaped the fruits of its labour in the shortest of time. The group return to black with a net profit of RM732,000 for its 1Q FY2021 ended March 31, 2021 after having incurred a net loss of RM3.5 mil during the same period a year ago. Its revenue during that period also soared 31.4% year-on-year (yoy) to RM30.19 mil (1Q FY2020: RM22.99 mil).
Going green
Having brought its tiles business to a brand new level, the next phase of growth for YB Ventures is to tap the renewable energy (RE) sector which has been lacking take-up rate despite concerns over climate change since the last decade.
In Au's view, the growth prospect of RE in the likes of solar is enormous in countries like Malaysia which benefit from geographical advantage with exposure to sun throughout the year.
"More investment needs to be made in order to escalate the push for RE such as utilisation of solar power," he opined.
"We're lucky to be living in an age where societies are pushing for sustainable investment to increase. I foresee the RE sector to see a multi-fold growth opportunities over the next decade."
Au's comment runs parallel with market expectations that investment in RE will outpace upstream oil & gas (O&G) for the first time in history this year. Goldman Sachs expects RE projects to become the largest area of energy spending in 2021.
YB Ventures' next venture into the RE sector will put the spotlight on Au's management acumen as he aims to push for a sustainability-driven growth strategies.
Eco-friendly practices
"What we want to do is to adopt sustainability practice at every level of our organisation in order to achieve a circular economy," he envisages. "With our venture into the RE sector, the group's manufacturing plant will also shift towards the usage of solar power."
Au plans to introduce various measures to reduce the carbon footprint at YB Ventures' production plants although he acknowledged that these efforts take time given the legacy issues that come with existing manufacturing processes.
"Enhancements will be made and where it is possible, we will adopt the eco-friendly best practices," he pledged.
Au is a passionate Malaysian businessman who has successfully build his own tech start-up Techbase Solution. His passion is to drive sustainable and inclusive growth across a wide section of the Malaysian society.
"Coming from a middle-class income family, I know the hard work it takes to build a strong and successful organisation. My dream has always been to push for the circular economy growth," he philosophises.
"We have seen more priorities in these areas recently but more works need to be done. The only way we can fight against climate change and global warming is by doing this together."
At the close of today's trading, YB Ventures was up 0.5 sen or 0.88% to 57.5 sen with 545,900 shares traded, thus valuing the company at RM139.50 mil. – June 18, 2021
Source: https://focusmalaysia.my/yb-ventures-rolls-out-tiles-solutions-with-sustainability-driven-facelift/