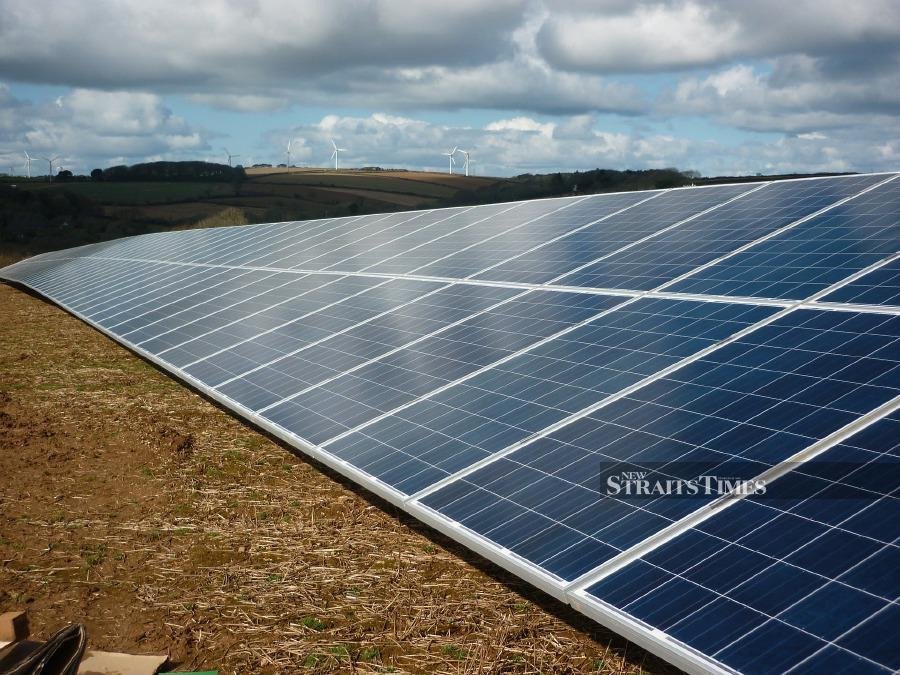 KUALA LUMPUR: YB Ventures Bhd (YVB) is keen on developing large scale solar (LSS) projects in Sabah and Sarawak as both states are well-suited for developing renewable energy (RE) businesses.
Executive director Au Yee Boon said the company is also looking at the Klang Valley and the northern state of Peninsular Malaysia for LSS projects to be undertaken by its newly formed subsidiary YB Renewable Energy Sdn Bhd (YRE).
"Yes, Sabah and Sarawak definitely are suitable for developing LSS projects, and we are eyeing some projects in both states. "We also note that in West Malaysia, the RE sector is already crowded with competition.
"Having said that, we are also keeping an eye out for projects here in Klang Valley as well as the states in the northern region. But, for us, it is more vital to look at the economic viability, localised demand and synergy that such projects would provide for consumers and vendors," he told The New Straits Times.
Au said YVB currently is in talks with a prospective partner on forming a collaboration entity.
"Our potential partner has vast experience in the RE sector and would provide perfect synergy with the company.
"Our immediate focus is to ensure that the collaboration will enable us to broaden our income base with strong recurring cash flow," Au said without divulging into details of the potential partner.
YRE was formed on 22 July to undertake activities related to RE in Malaysia.
The incorporation of YRE opens up a new range of possibilities to continue to diversify YVB business and explore opportunities that add value and strengthen the RE sector, Au was quoted saying.
He said YVB is also in a few discussions that would potentially transform the company into a key player in the RE sector, with the acquisition of earnings-accretive assets that will provide high recurring income to the company.
Elaborating further on the RE business, Au said the company is looking beyond engineering, procurement, construction, and commissioning (EPCC) projects and would rather be project owners that can provide the company with entitlement over a 25-year period.
"This could help to ensure a sustainable income growth for YBV in the long-term in our venture into RE projects in Malaysia," he said.
Moving on, YVB is also currently in discussion to acquire a main market-listed company to expand its RE venture and project bidding further.
When asked, Au said YVB is looking at a price range of approximately RM100 million to RM120 million for this acquisition, which will be less than the company's net tangible assets (NTA) value.
"We think it's a fair valuation. We have been diligent over the years, as seen by our strong balance sheet, which has now put us in a good position to negotiate on mergers and acquisitions (M&A) with strategic companies.
"With a net cash position and our positive operating cash flow during the first quarter of this year, we think it is a good time to push for inorganic growth especially given the attractive valuation in the current market environment," Au said.
While it is still too early to discuss the acquisition and expansion plans, Au said YVB must go through a thorough due diligence process, fine-tune some details with the management team, and obtain shareholder approval for the acquisition before taking any corporate actions.
Elaborating further on East Malaysia, Au said the growth potential of LSS projects in Sabah and Sarawak are huge, especially for Sabah.
He said Malaysia has targeted to increase installed capacity of 1,200 MW of LSS farms whereby 200MW in Sabah and another 1,000 MW is in Peninsular Malaysia.
Studies have also shown that the average electricity production for a proposed 5MW power plant is projected to be 8,377MWh annually, available for export in Sabah.
Aside from that, the application of solar photovoltaic for the grid-connected systems over a 21-year project lifetime is also feasible financially, Au said.
As for Sarawak, the state-owned energy provider, Sarawak Energy Bhd, is taking the lead in pushing the adoption of RE in the country.
Together with the Ministry of Utilities Sarawak, Sarawak Energy targets full electrification in Sarawak by 2025, and it is already exporting power to the Indonesian neighbour, West Kalimantan.
"By 2030, Sarawak Energy plans to incorporate more RE projects such as LSS power to account for 4 per cent of the mix.
"Given the macroeconomic factors and government initiatives, we believe that LSS projects in Sabah and Sarawak are good candidates for YBV to venture into the RE sector with its partner given the right incentives," Au said.
Sources: https://www.nst.com.my/business/2021/08/716971/yb-ventures-aims-capitalise-lucrative-lss-re-projects-sabah-sarawak